The Familiars of Eternus
Familiars: "Ah so you are interested in buying a pet are you? Well we have a full selection. If you want a pet then you have come to the right shop my friend. We have a wide variety from which to choose so please have a look around."
Caring for Familiars: Taking care of a familiar is an important part of owing an animal. See: Animal Care


Common Animals: We have a wide variety of dogs and cats as well as some unusual creatures. They don't do much to help an adventurer but they do help you relax when you are home so might consider purchasing one. The are very cute aren't they? We have all sizes from small to large.

Small Animals
Dog (Puppy):
Dog (Adult):
Dove:
Sparrow:
Songbird:
Duck
Geese
Rabbit
Chicken
Turkey
Swan
Guinea foul
Pigeon

Medium Animals
Peacock
Goats
Pig
Sheep

Large Animals
Emu
Ostrich
Llama
Alpaca
Cow
Horse
Donkey
Mule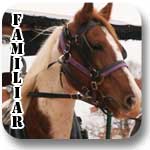 Bonding: "Every pet from the common cat to the most powerful familiar must bond with the person who has purchased them before they can trust them. This process is usually longer when they pet is of higher quality but this is not always the case."