Medieval Fantasy RPG (GM's Guide)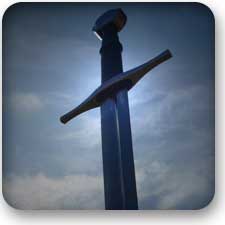 Privacy Policy: Note: We take your privacy very seriously
This privacy notice discloses the privacy practices for the Eternus.co website. This privacy notice applies solely to information collected by this web site. It will notify you of the following:
1. What personally identifiable information is collected from you through our web site, how it is used and with whom it may be shared.
2. What choices are available to you regarding the use of your data if any is collected.
3. What security procedures are in place to protect the misuse of your private information.
4. How you can correct any inaccuracies in the information or request the discontinuation of the use of such data.
Information Collection, Use, and Sharing
We are the sole owners of the information collected on this site. We only have access to or collect information that you voluntarily give us via email or other direct contact from you. We will not sell or rent this information to anyone.
We will use your information to respond to you if you contact us. We will not share your information with any third party outside of our organization, other than as necessary to fulfill your request, such as to ship an order, answer a question or etc.
Unless you ask us not to, we may contact you via email in the future to tell you about changes to this privacy policy, specials, new products or services, or tips and information.
Security
We take precautions to protect your information. When you submit sensitive information via the website, your information is protected both online and offline.
Wherever we collect sensitive information (such as credit card data), that information is encrypted and transmitted to us in a secure way.
While we use encryption to protect sensitive information transmitted online, we also protect your information offline. Only employees who need the information to perform a specific job (for example, billing or customer service) are granted access to personally identifiable information. The computers/servers in which we store personally identifiable information are kept in a secure environment.
NEW FROM ETERNUS
New Store
: Check out the 600+ unique new magical items at our new store that were just released for playtest.
New Class Powers
: Find a bunch of new class powers to choose from. Every class has been expanded.
See Quick Start Guide
: With new powers and items there has never been a better time to play.
CAMPAIGNS
Eternus is very excited to announce that we will be releasing three new Campaigns in the next few months. They will all be free to playtest for members of our site. Keep an eye out for new info and other releases.
See Quick Start Guide
: Eternus is designed to be easy to play for the beginner while offering the expert RPG player the feel of real combat. Don't take our word, get in on the fun!
PHILOSOPHY
Our philosophy is that the rules should add to the fun or get out of the way. Our system encourages you to be creative. It doesn't try to diminish your natural ability to role-play, it enhances it. Opportunities to advance your character and gain an edge on your opponents abound in our system, take advantage of them when you can.
See Tactics
If you have a hard time getting into character many elements of the system will lay a path of choices before you and encourages you to get in tune with your character naturally. See Characters