Medieval Slashing Weapons (Eternus)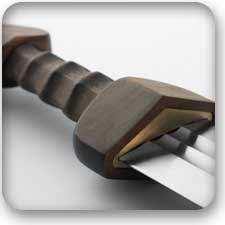 SLASHING WEAPONS: Slashing weapons use the sides of the blade to cut the enemy in an arcing motion. Slashing weapons work best against light armor giving the user +50 on critical chances.
SWORDS: Swords can be single or double-bladed edges. The blade can be straight or curved.

One-Handed Weapons (Straight Sword)
Colichemarde:
Gladius:

One-Handed Weapons (Axes)
Broadaxe:
Hatchet:
Bearded Axe:

Switch Weapons (Straight Sword)
Arming Sword:
Baselard: | +1 | +2 | +3 | +4 | +5 | +6 | +7 | +8 | +9 | +10 |
Leaf-Shaped Dagger:
Leaf-Shaped Sword:
Machete:

Two-handed Weapons (Straight Sword)
Longsword:
Executioner's Sword:
Great sword:

Two-handed Weapons (Axe)
Labrys:
Battle axe:

Two-handed Weapons (Polearm)
Bardiche:
Fauchard:
Halberd:
War scythe:
Range Weapons (Slashing):
Hira Shuriken:
Any Bow: Bladed Arrows

Ancient Weapons (Slashing):
Falchion:
Flamberge:
Flambard:
Spatha:

Class Weapons (Slashing):
Star Forge Empowered Soulblade: (Ancestral Guardian)
Katar: (Ancestral Guardian)
Azza: (Armati)
Ninjato: (Shadow Warrior)
Engraved Stone Sword of Challenge (Champion)
Silver Shadowed Kris Dagger (Shadow Warrior)

Heritage Weapons (Slashing):
Cinquedea: (Akiro)
Claidheamh Da Laimh: (Deru)
Claidheamh Cuil: (Ljolsafar)
Claidheamh Mor: (Night Elf)
Dragon Claw: (Ruby Dragonborn)
Falcata: (Minotaur Lord)
Ranseur: (Dark Guardian)